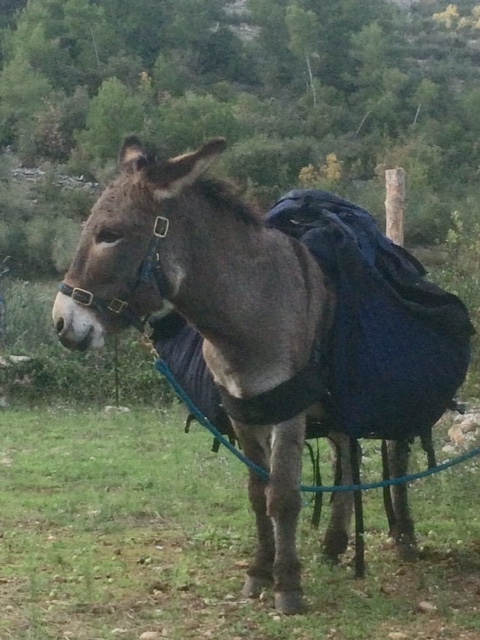 Pano at Work
My first donkey Pano came upon me by chance and now I consider it great luck! I met him when he was just a few days old in July 2013 and went to visit him and his mum most days. A few months later I found out the owners planned to kill him for meat. I was horrified and of course had to step in. So there I suddenly was.. a donkey parent! I had no experience and learnt as I went along. Pano is so dear to me. He always makes me laugh and because I worked with him alone he is so good at listening and working with my voice. He helped me discover parts of the island that I never would have explored without him. He changed my life and led me to discover more donkeys!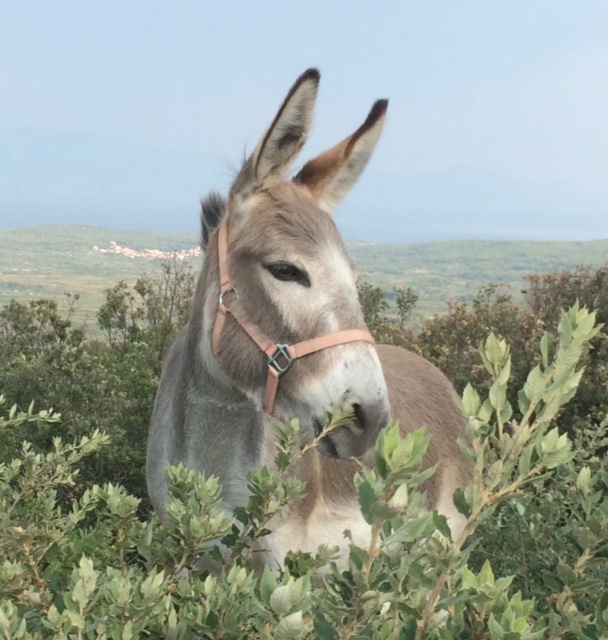 Lily rose
Lily-Rose was born in April 2015. She came when she was 6 months old and I got her as a companion for Pano as donkeys should never be alone. It was love at first sight and they both have an incredible bond. Lily-Rose is the yin to Pano's yang! She is calm and sweet and a born leader. She takes care of her family in a gentle but firm way.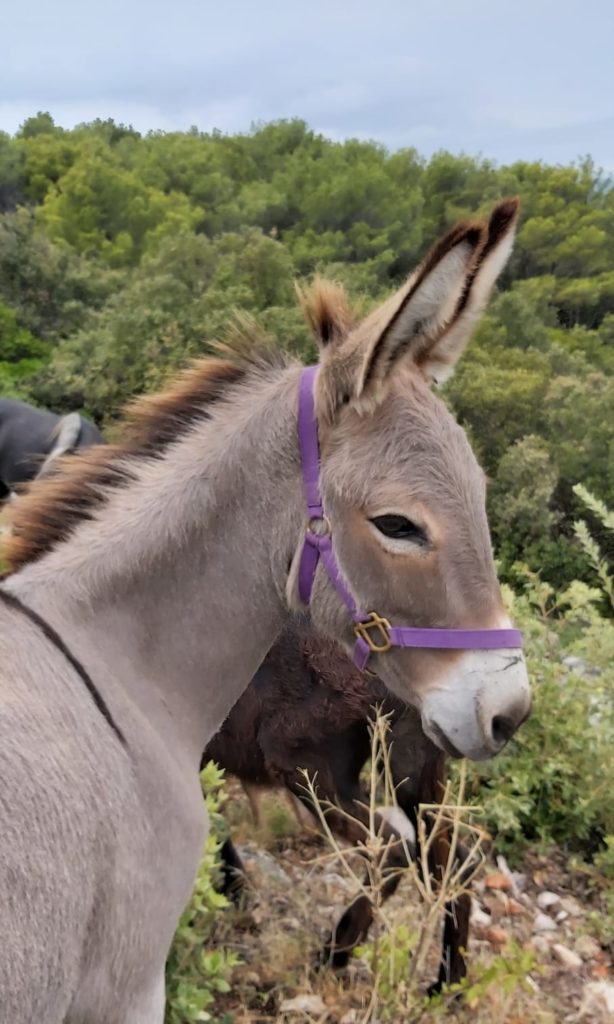 Lula
Lula was born in september 2015 `and is the half-sister of Pano. (They share the same mother,lady  Penelope as I named her). Even though Lula is only 6 months younger than Lily, she seems a lot younger. She had quite a lot of trauma when she was young and she'd not been handled much. But luckily I managed to take her when she was just under 2 years old. Lula is really athletic and enjoys posing for photos!
Zena
As you can see, Zena is not a donkey at all. She's not a mule or a hinny. But in her mind she's a petite delicate donkey, except when it comes to eating and she suddenly remembers she needs a lot more food. She was born June 2016 and came to me when she was one and a half. She was very out of condition and was full of ticks and worms. She could not walk more than 300 metres without having to lie down and rest! I worked with her daily to build up her fitness. When she hit puberty, she was very hard work and there were times I despaired. But I never gave up because I believed in her. She has grown into an intelligent lovely lady. She was totally black when she arrived with just a white patch on her forehead, but now it's turning more white by the day. So who knows what colour she will be in a few years.
In 2019 I met 3 more donkeys when I went to help take care of them at the top of the island for 3 months, bringing Pano, Lily, Lula, Zena and all my cats with me. After we left, the donkeys just kept escaping and coming down to our village. So the owner agreed to let me take them as he could see they were all very happy together.  In 2021 I became the permanent guardian of these donkeys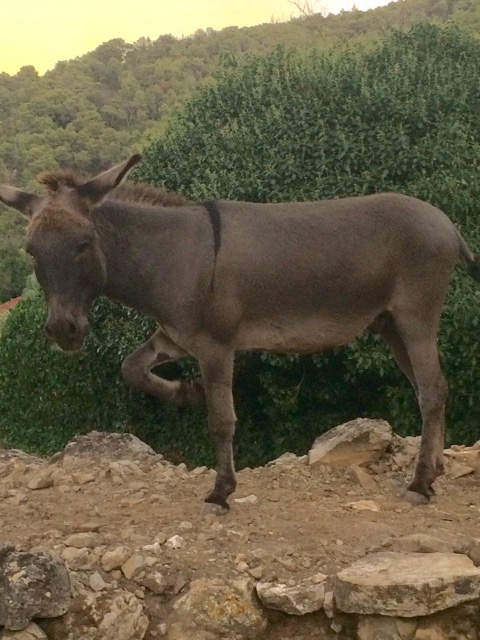 Romeo
Romeo was probably born around 2016. He could be the new James Bond. He is quiet and handsome. He is smaller in stature than Pano and was a little out of shape when we met. But when he saw Pano, it was immediately a bromance and they enjoy playing manly wrestling games to keep fit a few times a day. Romeo is showing more confidence now that he is in great James donkey Bond shape! It's lovely to have another charming gelding boy in the herd!
very sadly we lost out dear Romeo to colic at the end of august 2022. We will never forget him and miss him very much . He was so gentle and loved hugs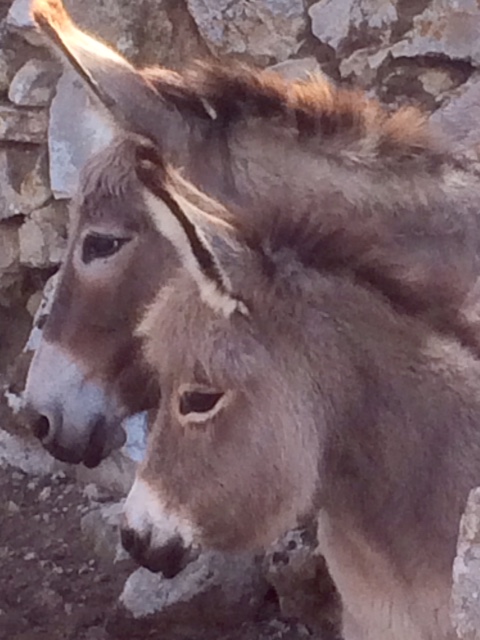 Juliette and Matilda at 3months old
Juliette, was possibly born in 2014. She was a very reserved, shy donkey when I met her, and it was impossible to groom her or put a halter on her. But how she has blossomed! She is a delight and super intelligent and sweet. As she is the only one of the herd to have given birth not once but twice, she comes secretly for a little handful of grain or oats which the others do not get and we say "oooooh Juliette: take this as we know you are the only person in the world to have had babies!"
Lily front , Paca and Lula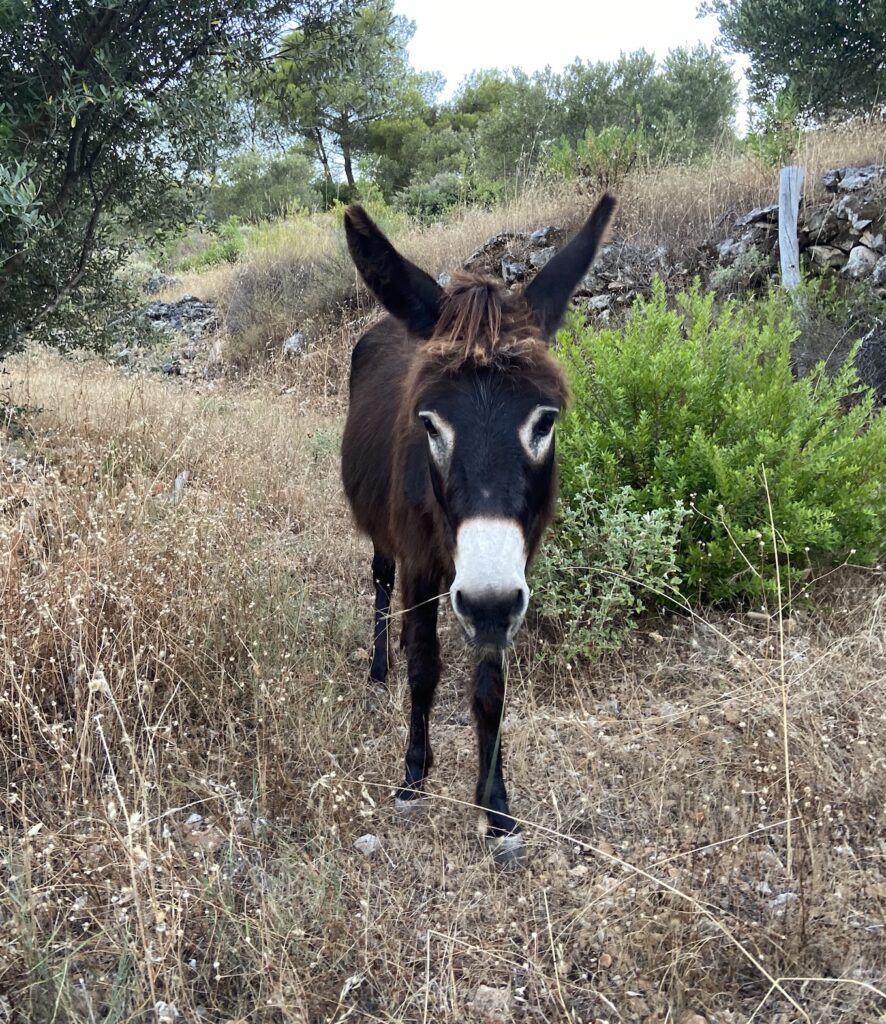 Paca
Paca was born August 2018. Paca was given her name by some friends because when she was born she was so very fluffy –just like an alpaca! It was only when she turned 2 that she began to lose her dreadlocks due to a lot of brushing and clipping! She has such soft fur. Paca is Juliette's first daughter. She loves cuddles, being groomed and adores Lily -Rose.
And in April 2020, along came Matilda. Matilda's parents are Romeo and Juliette! I never knew when Matilda was conceived. It seems like Juliette was pregnant forever! However Juliette hung on until she had moved to Pano's place in Dol and gave birth 3 weeks later! Matilda is super confident and I think it won't be long until she is leading the herd! She loves all her family and has a special bond with Zena! Matilda was already featured in an online art exhibition not long after her birth.
Read more here about how you can visit the donkeys