and animals…
I always loved animals and dance from as early as I can remember. Although I had dolls as a child, I was more often seen with some stuffed animal in my arms: a teddy, a penguin, or a rabbit — anything soft and animal-like. In family holiday photos, I always seem to find myself photographed with some …
However, I never had any pets until I was an adult. I got my first cat in London in my early twenties, and then my second cat when I lived in Greece.
When I came to Hvar, of course the animals came in thick and fast, and it's here now that I have my big animal family.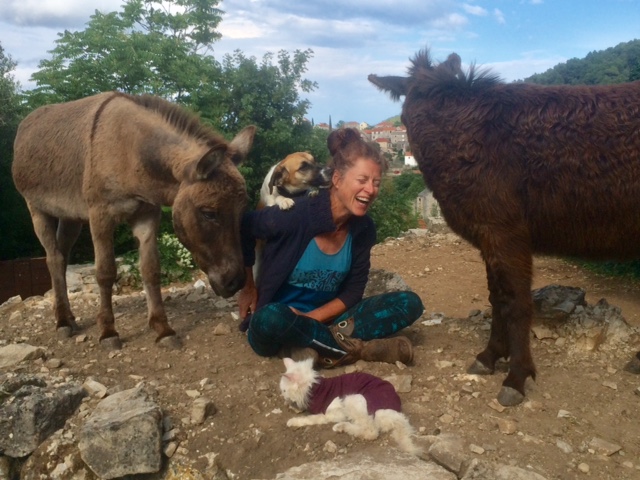 and yoga…
I discovered yoga in my twenties as I was a professional dancer so I was always looking for other ways to help my body.
Then, yoga was no where near as popular as it is now, and it was in some basement in Kensington where I did my first yoga class in a pair of baggy tracksuit bottoms. I loved it and by the time I was in my early thirties my teacher at the time became pregnant and asked me if I would teach her classes. I had taught a lot of dance so it wasn't too daunting teaching my first yoga class
I have studied with many teachers and I'm grateful to all of them. I'm grateful too to all my students, many of whom have continued studying with me over many years. But my best teachers are certainly my animals and nature. Maybe it's because I met them at a certain time of my life when I could see beyond the pretence and show of some humans and was ready more for the silent whispers to take me beyond the endless information we are often fed with, which often takes us further away from the source.
more yoga on yoga with jana.. https://www.yogadonkeyscatsandmore.com/teacher/